Batam, Indonesia, is a popular tourist destination known for its stunning landscapes, vibrant culture, and warm hospitality. With an array of accommodation options available across the island, finding the best hotel that suits your needs can be a daunting task. In this guide, we will explore the different types of hotels in Batam, ranging from luxury to budget, and family-friendly options, to help you make the right choice for your stay.
Understanding Batam's Geographical Layout
Before delving into the various hotel options in Batam, it is important to familiarize yourself with the island's geographical layout. Nestled in the Riau Archipelago, Batam is part of the Indonesia-Malaysia-Singapore Growth Triangle, making it easily accessible from Singapore and Malaysia. This proximity to major transportation hubs has made Batam a preferred destination for travelers.
The island is divided into key areas, each offering distinct attractions and accommodation options. Let's explore the main areas and their respective characteristics.
Key Areas to Stay in Batam
1. Nagoya: Located in the heart of Batam, Nagoya is the commercial and transportation hub. It is home to a wide range of hotels, ranging from luxury to budget, making it an ideal choice for travelers seeking convenience and accessibility. This area is bustling with shopping malls, local markets, and entertainment venues.
Nagoya is not only a great place to stay for its amenities, but it also offers a glimpse into the local culture. Take a stroll through the vibrant streets and immerse yourself in the lively atmosphere. Indulge in delicious street food, shop for souvenirs at the bustling markets, and witness the vibrant nightlife that Nagoya has to offer.
2. Waterfront City: Situated on the northern coast of Batam, Waterfront City offers a serene escape from the city's hustle and bustle. This area boasts luxurious beachfront resorts and private villas that provide a tranquil ambiance and breathtaking ocean views.
Waterfront City is a haven for relaxation and rejuvenation. Spend your days lounging by the pool, enjoying spa treatments, or simply taking in the picturesque views of the ocean. For adventure seekers, Waterfront City also offers a range of water sports activities such as jet skiing, snorkeling, and diving.
3. Sekupang: Located on the eastern coast of Batam, Sekupang is known for its proximity to ferry terminals connecting Batam to neighboring islands and Malaysia. This area offers a selection of mid-range and budget hotels, making it a convenient choice for travelers in transit.
Sekupang not only serves as a gateway to other destinations, but it also has its own charm. Explore the local markets and sample traditional Indonesian cuisine. Visit the nearby fishing villages and witness the daily lives of the locals. Sekupang offers a unique cultural experience that shouldn't be missed.
Proximity to Tourist Attractions
Batam is renowned for its beautiful beaches, golf courses, and vibrant nightlife. When choosing a hotel, consider its proximity to these attractions based on your preferences.
If you are a golf enthusiast, staying in Nongsa or Waterfront City will offer easy access to renowned golf courses like Tering Bay Golf & Country Club and Palm Springs Golf & Beach Resort. Spend your days perfecting your swing amidst stunning landscapes and enjoy the luxurious amenities these resorts have to offer.
On the other hand, if you prefer exploring nature, resorts situated in the Nongsa area provide easy access to mangrove forests, hiking trails, and stunning coastal panoramas. Immerse yourself in the natural beauty of Batam, go on guided nature walks, and discover the diverse flora and fauna that call this island home.
With its diverse geographical layout and range of attractions, Batam offers something for every traveler. Whether you're seeking a bustling city experience, a tranquil beach getaway, or an adventure in nature, Batam has it all.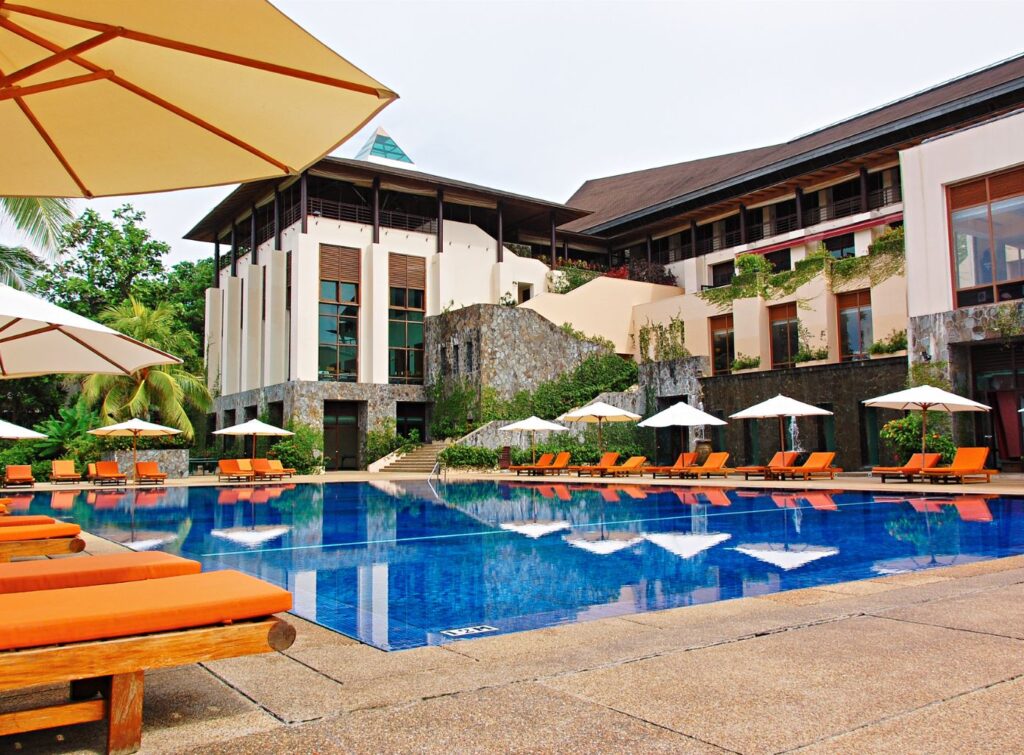 Luxury Hotels in Batam
For those seeking a lavish getaway, Batam offers an impressive selection of luxury hotels that combine opulent amenities with exceptional service. These hotels provide an unforgettable experience for discerning travelers.
Amenities and Services
Luxury hotels in Batam boast a wide range of amenities and services to ensure a memorable stay. World-class spas, wellness centers, and fitness facilities cater to guests seeking relaxation and rejuvenation. Gourmet restaurants serving global cuisines and exotic local delicacies tantalize the taste buds, while opulent suites and villas provide a haven of comfort.
Price Range and Value
While luxury hotels may have higher price points, discerning travelers will find that the value they offer is well worth the investment. The impeccable service, attention to detail, and luxurious surroundings create an unparalleled experience that leaves a lasting impression.
When comparing different luxury hotels, consider the included amenities, proximity to attractions, and the overall guest reviews to make an informed decision that aligns with your preferences and budget.
Mid-Range Hotels in Batam
Travelers who desire comfort and value without breaking the bank will find an array of mid-range hotels in Batam. These accommodations offer a balance between affordability and quality.
Comfort vs Cost
Mid-range hotels in Batam provide comfortable rooms and essential amenities to ensure a pleasant stay. While they may not offer the extravagance of luxury hotels, their competitive prices make them an attractive choice for budget-conscious travelers.
Locations and Accessibility
Mid-range hotels are scattered across Batam, allowing guests to choose locations that suit their itineraries. Whether you prefer staying near entertainment hubs or close to nature, you can find mid-range hotels that cater to your preferences.
Additionally, the accessibility of these hotels to transportation hubs and popular tourist spots adds convenience to your stay, allowing for seamless exploration of Batam's attractions.
Budget Hotels and Hostels in Batam
If you are a budget traveler, Batam offers a wide range of affordable accommodations without compromising comfort or convenience. Budget hotels and hostels provide the perfect option for those seeking cost-effective stays.
Saving Money without Sacrificing Comfort
Despite their lower rates, budget hotels in Batam strive to provide guests with comfortable rooms and essential amenities. From clean and cozy rooms to friendly staff, these accommodations ensure a pleasant experience without burning a hole in your wallet.
Popular Budget-Friendly Choices
Batam's budget hotels and hostels are situated in key areas like Nagoya and Sekupang, offering an affordable option for travelers on a tight budget. These accommodations are within easy reach of shopping centers, local markets, and dining options, making them ideal for exploring Batam's vibrant atmosphere without spending excessively.
Family-Friendly Accommodations in Batam
Traveling with family requires careful consideration of comfort and suitability for children. Batam offers an array of family-friendly hotels that cater to the needs of both parents and children.
Kid-Friendly Amenities and Services
Family-friendly hotels in Batam provide a range of amenities and services designed to keep children entertained. Kids' clubs, playgrounds, and swimming pools ensure that the young ones are occupied and have a memorable stay.
Hotels with Family Rooms
When traveling with family, it is important to find accommodations that can accommodate everyone comfortably. Family rooms in Batam's hotels provide spacious layouts and additional beds, ensuring a pleasant stay for the entire family.
In conclusion, Batam offers a diverse range of accommodation options suited to every traveler's needs. Whether you prefer luxury, mid-range, or budget stays, or require family-friendly amenities, Batam has something for everyone. By considering the geographical layout, proximity to attractions, and specific requirements, you can choose the best hotel in Batam, Indonesia, to make your stay truly unforgettable.