If you're looking for an indulgent getaway in Indonesia, you'll be pleased to know that this vibrant Southeast Asian country boasts some of the best 5-star hotels in the world. From the bustling capital of Jakarta to the idyllic island of Bali and beyond, Indonesia offers a myriad of luxurious accommodations that cater to the refined tastes of discerning travelers. In this article, we'll take a deep dive into the world of 5-star hotels in Indonesia, discussing everything from the industry's evolution to the key features that contribute to an unforgettable stay. So, without further ado, let's embark on a journey to discover the best 5-star hotels that Indonesia has to offer.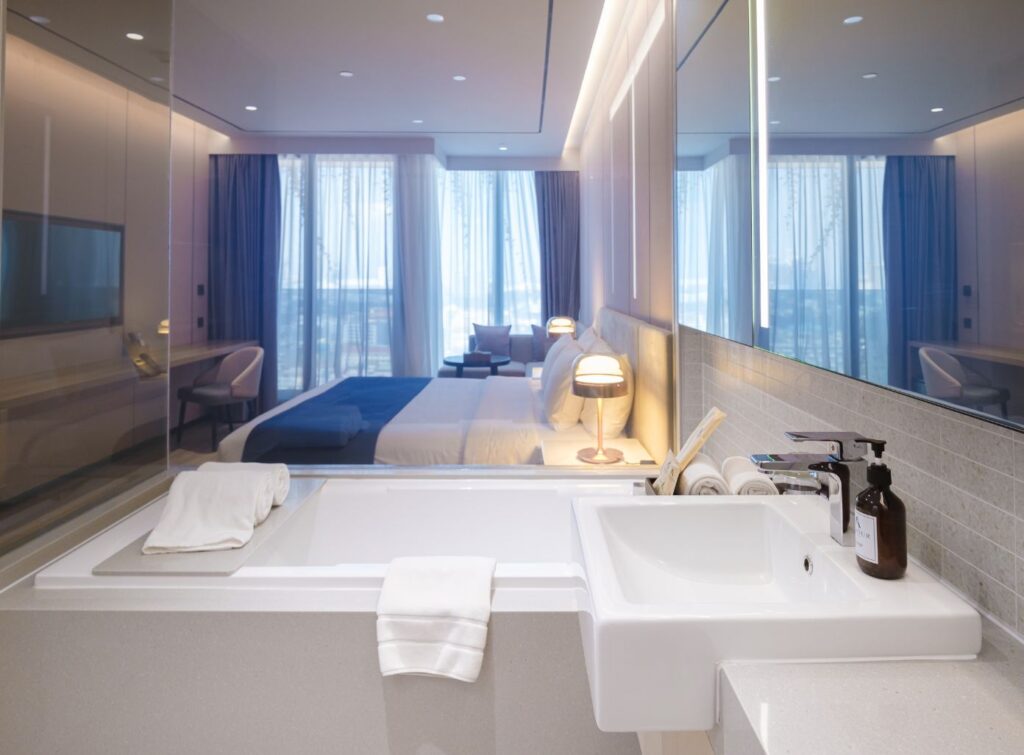 Understanding the Luxury Hotel Industry in Indonesia
The luxury hotel industry in Indonesia has experienced a remarkable boom over the past decade. The allure of pristine beaches, rich cultural heritage, and warm hospitality has attracted millions of tourists, driving the demand for upscale accommodations. As a result, both international hotel chains and local entrepreneurs have eagerly capitalized on this opportunity, transforming the Indonesian hospitality landscape.
One of the noteworthy trends in recent years has been the rise of luxury accommodations in Indonesia. Gone are the days when budget hotels dominated the market. Today, travelers can choose from opulent resorts, chic boutique hotels, and lavish city stays that cater to their every whim.
The Rise of Luxury Accommodations in Indonesia
The rise of luxury accommodations in Indonesia can be attributed to several factors. Firstly, the government has implemented robust tourism policies, promoting Indonesia as a must-visit destination. This concerted effort has boosted international interest and increased investment in the hospitality sector.
Furthermore, Indonesia's diverse natural landscapes and cultural heritage have drawn travelers seeking unique experiences. Luxury hotel developers have responded by crafting accommodations that embody the essence of Indonesia, blending local design elements with international standards of luxury.
Finally, the growing affluence of both domestic and international tourists has contributed to the demand for luxurious accommodations. As an increasing number of travelers seek exclusive and personalized experiences, luxury hotels have answered the call by providing exceptional services and amenities.
The Impact of Tourism on Hotel Growth
Indonesia's thriving tourism industry has had a profound impact on the growth of luxury hotels. With millions of visitors flocking to the country each year, hoteliers have witnessed a surge in demand for high-end accommodations.
This influx of tourists has not only driven the construction of new hotels but also led to the renovation and expansion of existing properties. Luxury hotel brands have recognized the potential of the Indonesian market and are investing heavily to meet the escalating demand for upscale stays.
Furthermore, the growth of tourism has boosted job opportunities and contributed to the overall economic development of the country. The hospitality industry has emerged as a significant pillar of Indonesia's economy, creating employment and fostering international collaborations.
Key Features of 5 Star Hotels in Indonesia
When it comes to 5-star hotels in Indonesia, guests can expect nothing short of excellence. These elite establishments pride themselves on providing unparalleled levels of service, world-class amenities, and spectacular architectural designs that transport guests to realms of luxury and indulgence.
Exceptional Services and Amenities
One of the defining characteristics of 5-star hotels in Indonesia is the impeccable service rendered by highly trained staff. From the moment guests arrive, they are greeted with genuine warmth and hospitality, ensuring a personalized experience throughout their stay.
Moreover, these hotels offer a wide array of amenities designed to cater to the desires of every guest. Lavish swimming pools, rejuvenating spas, state-of-the-art fitness centers, and fine dining restaurants are just a few examples of the indulgences that await.
Whether you're seeking a private beachfront cabana, a rooftop bar with panoramic city views, or a tranquil oasis amidst lush tropical gardens, 5-star hotels in Indonesia have it all.
Unique Architectural Designs
The architecture and design of 5-star hotels in Indonesia are a testament to the country's rich cultural heritage and artistry. Many hotels incorporate traditional Indonesian elements into their structures, such as intricately carved woodwork and ornate motifs.
Furthermore, these hotels seamlessly blend modern luxury with local aesthetics, creating an ambiance that is both inviting and inspiring. Every inch of these architectural masterpieces is thoughtfully curated, from the elegant furnishings to the meticulously manicured landscapes.
Top 5 Star Hotels in Jakarta
As the capital city of Indonesia, Jakarta boasts a bustling urban landscape teeming with business hubs, cultural landmarks, and exquisite 5-star hotels. Let's take a closer look at two of the top luxury accommodations that grace the city's skyline.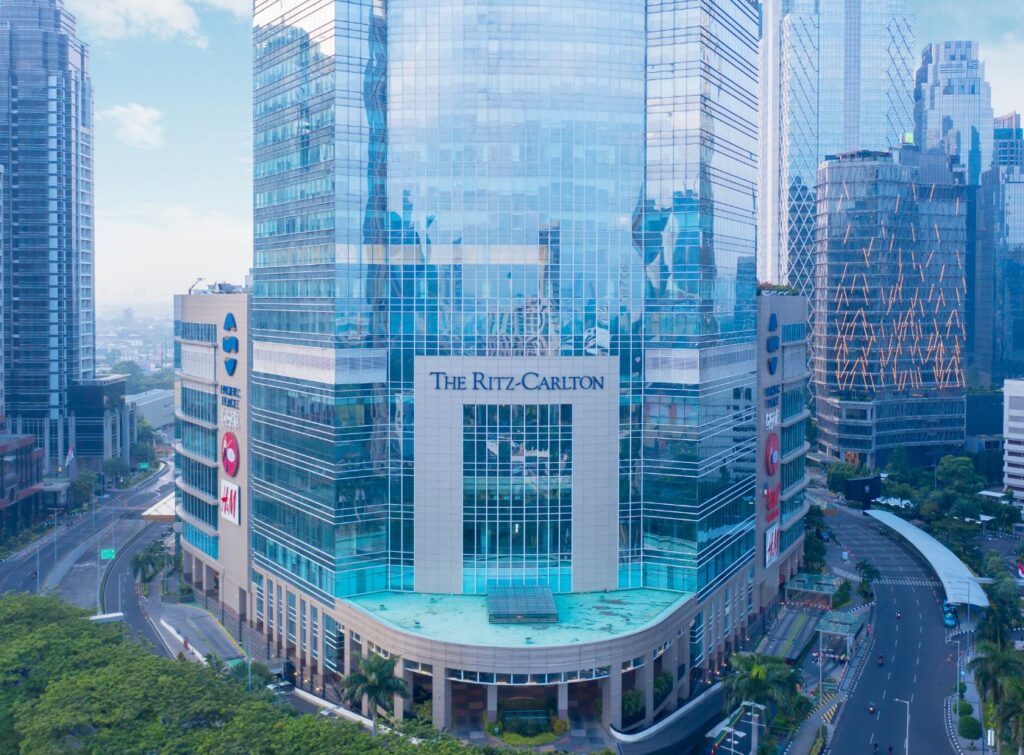 The Ritz-Carlton Jakarta, Mega Kuningan
Situated in the heart of Jakarta's prestigious Mega Kuningan district, The Ritz-Carlton offers a luxurious sanctuary for its guests. This grand hotel boasts elegant rooms and suites adorned with contemporary Indonesian art, marble bathrooms, and panoramic views of the city skyline.
The Ritz-Carlton Jakarta, Mega Kuningan is renowned for its exceptional service and attention to detail. With its fine dining options, tranquil spa, and state-of-the-art fitness center, this hotel ensures a stay that is nothing short of extraordinary.
Mandarin Oriental, Jakarta
With its prime location in the bustling central business district of Jakarta, the Mandarin Oriental captivates guests with its timeless elegance and impeccable hospitality. The hotel's spacious rooms and suites exude luxury, with state-of-the-art amenities and breathtaking city views.
The Mandarin Oriental, Jakarta is a haven for food enthusiasts, boasting a range of exceptional dining options. From tantalizing Asian flavors to delectable international cuisine, guests are treated to a culinary journey like no other.
Luxury Accommodations in Bali
Renowned for its picturesque landscapes, vibrant arts scene, and spiritual allure, Bali is a magnet for travelers seeking a truly immersive experience. Let's explore two of the most exquisite 5-star hotels that grace this enchanting island.
The St. Regis Bali Resort
The St. Regis Bali Resort beckons guests with its beachfront splendor and timeless elegance. Nestled amidst lush gardens, this hotel offers opulent suites and villas complete with private pools and stunning ocean views.
Gourmands will be delighted by the resort's array of dining options, which range from authentic Indonesian cuisine to exquisite Mediterranean creations. The St. Regis Bali Resort is also renowned for its signature personalized butler service, ensuring an unforgettable stay for every guest.
The Mulia, Mulia Resort & Villas
Located in the idyllic neighborhood of Nusa Dua, The Mulia, Mulia Resort & Villas epitomizes luxury. This expansive resort boasts a variety of spacious rooms, suites, and villas, each exquisitely designed to provide the utmost comfort and style.
Guests can indulge in a myriad of amenities, including a private beach, nine swimming pools, and multiple exquisite dining venues. The Mulia, Mulia Resort & Villas is a sanctuary of tranquility, offering a perfect blend of sophistication and relaxation.
Sumptuous Stays in Other Indonesian Cities
While Jakarta and Bali may steal the spotlight, other cities in Indonesia are also home to exceptional 5-star hotels that cater to discerning travelers. Let's explore two more remarkable luxury accommodations.
The Hermitage, A Tribute Portfolio Hotel, Jakarta
The Hermitage, A Tribute Portfolio Hotel, Jakarta is a boutique gem nestled in the heart of the capital city. Housed in a beautifully restored Art Deco building, this hotel seamlessly blends timeless elegance with modern comfort.
Guests can retreat to the hotel's luxurious rooms and suites, adorned with rich Indonesian fabrics and antique furnishings. The Hermitage offers a range of dining options and an enchanting rooftop lounge, allowing guests to savor culinary delights while soaking in breathtaking views of the city.
AYANA Resort and Spa, Bali
Perched on the picturesque cliffs of Jimbaran Bay, AYANA Resort and Spa offers an unrivaled getaway for those seeking serenity and exclusivity. This sprawling resort boasts spacious rooms, private villas, and lavish suites, each showcasing breathtaking ocean or garden views.
Guests can indulge in the resort's world-class spa facilities, which include a thermal spa, vitality plunge pools, and treatment rooms nestled amidst verdant gardens. AYANA Resort and Spa ensures a luxurious escape in a tranquil haven.
In conclusion, Indonesia stands as a beacon of luxury in Southeast Asia, offering a plethora of 5-star hotels that embody opulence and impeccable hospitality. Whether you choose to revel in the vibrant energy of Jakarta, immerse yourself in the mystical allure of Bali, or explore other captivating cities, you can rest assured that Indonesia's top-tier accommodations will exceed your expectations at every turn. So, pack your bags, embark on a journey of indulgence, and uncover the best 5-star hotels that Indonesia has to offer.