Bali, an enchanting island nestled in the Indonesian archipelago, is known for its vibrant culture, stunning landscapes, and warm hospitality. Whether you're seeking a luxurious beachfront resort, a tranquil retreat surrounded by lush rice terraces, or an adventurous getaway off the beaten path, Bali offers a plethora of options for every traveler. In this article, we will explore the best hotels in Bali, covering its geographic diversity, key factors to consider when choosing a hotel, top-rated accommodations, and unique accommodation options.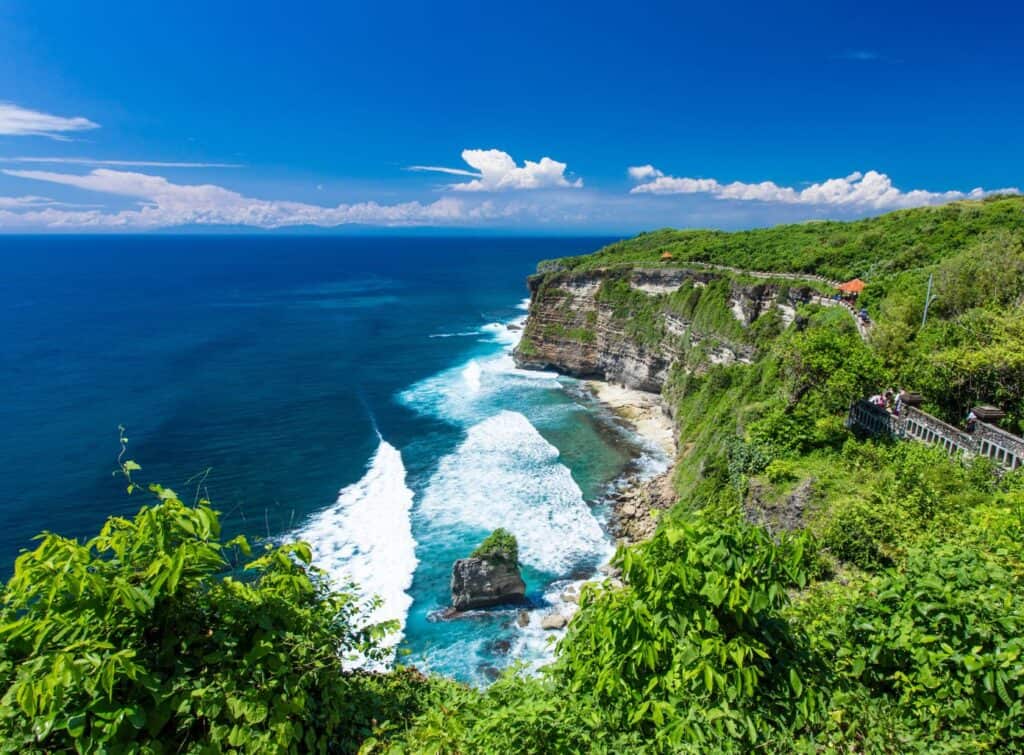 Understanding Bali's Geographic Diversity
Bali, the tropical paradise nestled in the heart of Indonesia, is a destination that offers a diverse range of experiences for travelers. From the stunning beaches in the south to the cultural wonders in the central region and the off-the-beaten-path adventures in the north and west, Bali has something for everyone.
The Southern Region: Beach Resorts and Luxury Stays
When it comes to beach resorts and luxury stays, the southern region of Bali takes center stage. Kuta and Seminyak, two popular destinations, attract surfers and beach enthusiasts from around the world. Here, you can ride the waves, bask in the sun, and enjoy a vibrant nightlife scene that pulsates with energy.
For those seeking a more refined experience, Nusa Dua is the place to be. This exclusive enclave boasts world-class amenities and five-star resorts that cater to the most discerning travelers. Imagine waking up to breathtaking ocean views, strolling along private beaches, and taking a dip in extravagant pools. Indulge in rejuvenating spa treatments, savor culinary delights at award-winning restaurants, and embrace the epitome of luxury.
Central Bali: Cultural Experiences and Tranquil Retreats
If you yearn for a deeper understanding of Bali's rich cultural heritage, head to the central region. Ubud, the cultural heart of Bali, is a haven for art enthusiasts, nature lovers, and spiritual seekers. Immerse yourself in the sights and sounds of traditional arts and crafts, witness captivating dance performances, and explore the lush rice terraces that paint the landscape.
Surrounded by serene valleys and jungle landscapes, Ubud offers a range of boutique hotels and resorts that blend seamlessly with the natural surroundings. Imagine waking up to the gentle sounds of nature, practicing yoga amidst breathtaking scenery, and finding inner peace through meditation. Explore vibrant markets where local artisans showcase their crafts, and let the rhythm of traditional music transport you to another world.
Northern and Western Bali: Off-the-Beaten-Path Adventures
If you crave adventure and seek to explore the road less traveled, northern and western Bali beckon with their hidden gems. Lovina Beach, located on the island's north coast, offers a tranquil escape from the bustling tourist areas. Dive into the crystal-clear waters and discover a vibrant underwater world teeming with colorful coral reefs and playful dolphins.
For a truly unique experience, venture to the western region of Bali, where untouched beauty and a slower pace of life await. Menjangan Island, part of Bali Barat National Park, is a diver's paradise. Immerse yourself in the underwater wonderland of pristine coral gardens and encounter a diverse array of marine life. Swim alongside graceful manta rays, spot elusive sea turtles, and marvel at the vibrant colors of tropical fish.
As you explore the off-the-beaten-path regions, you'll also have the opportunity to interact with the warm and welcoming local communities. Discover their unique traditions, taste authentic Balinese cuisine, and learn about their deep connection to the land and sea.
Whether you seek relaxation, cultural immersion, or thrilling adventures, Bali's geographic diversity offers a multitude of experiences that will leave you enchanted and longing to return.
Key Factors to Consider When Choosing a Hotel in Bali
Proximity to Tourist Attractions
When selecting a hotel in Bali, it's essential to consider its proximity to top tourist attractions. If you're keen on exploring Bali's cultural side, choose a hotel in central Bali, near Ubud, to have easy access to the famous Monkey Forest, Ubud Palace, and Tegallalang Rice Terraces. Those interested in water sports and beach activities may opt for accommodations in the southern region, close to Kuta or Nusa Dua.
Types of Accommodations: From Budget to Luxury
Bali caters to all budgets, offering a range of accommodations from budget-friendly guesthouses to opulent five-star resorts. If you're a backpacker or looking for affordable options, consider staying in the vibrant areas of Kuta or Seminyak, where you can find budget-friendly guesthouses, hostels, and mid-range hotels.
Travelers seeking luxury and exclusivity will be spoiled for choice in Bali. The southern region boasts numerous world-class resorts, such as Ayana Resort and Spa or The Mulia, promising lavish indulgence and unparalleled service.
Amenities and Services: What to Expect
When booking a hotel in Bali, it's important to consider the amenities and services offered. Most hotels provide complimentary Wi-Fi, swimming pools, fitness centers, and in-room dining options. Some upscale resorts may also offer private beach access, butler services, and spa facilities.
For a truly luxurious experience, consider choosing a hotel with a spa that offers traditional Balinese treatments or wellness programs. These spas often use locally sourced ingredients, ensuring an authentic and rejuvenating experience.
Top-Rated Hotels in Bali
Best Luxury Hotels for a Lavish Stay
Bali is renowned for its stunning luxury hotels that provide unparalleled comfort and opulence. Some of the best luxury hotels in Bali include The St. Regis Bali Resort in Nusa Dua, renowned for its exceptional service and exquisite beachfront villas, and Bulgari Resort Bali in Uluwatu, where you can enjoy breathtaking views from cliffside villas.
Top Mid-Range Hotels for Comfort and Value
If you're looking for a balance between comfort and affordability, Bali offers a wide range of mid-range hotels that guarantee a pleasant stay. The Udaya Resorts and Spa in Ubud embodies tranquility and offers spacious rooms overlooking the lush greenery. Mercure Bali Legian is another excellent option, situated just a short walk away from Legian Beach.
Best Budget Hotels: Affordable without Compromising Quality
Bali also caters to budget-conscious travelers, providing an array of affordable yet comfortable accommodation options. The Lokha Ubud and Dewi Sri Hotel in Kuta are great choices, offering clean rooms, friendly staff, and proximity to popular attractions.
Bali's Unique Accommodation Options
Boutique Hotels with Local Charm
If you're looking for an intimate and authentic experience, consider staying in one of Bali's boutique hotels. Alaya Ubud, nestled in the heart of Ubud, offers stylish rooms, traditional decor, and a serene ambiance. The Chedi Club Tanah Gajah, located amidst lush rice paddies, showcases the beauty of Balinese art and nature.
Eco-Resorts for Sustainable Travel
Bali's commitment to sustainability is reflected in its eco-resorts, which focus on reducing environmental impact while providing a unique travel experience. Bambu Indah in Ubud is a stunning eco-luxury resort that features bamboo structures and sustainable practices. Green Village Bali offers breathtaking bamboo villas tucked away in a jungle setting.
Private Villas for a Secluded Getaway
For ultimate privacy and seclusion, Bali offers a range of private villas. The Royal Purnama in Gianyar boasts luxurious oceanfront villas with private pools and personalized butler services. The Kayon Jungle Resort, hidden in the heart of Ubud's jungle, provides a serene escape with luxurious villas and breathtaking views.
In conclusion, Bali offers an extensive selection of hotels and accommodations, catering to the diverse needs and preferences of every traveler. Whether you're seeking a lavish beachfront resort, a cultural retreat, or an immersive adventure, Bali's hotels provide a gateway to authentic experiences and memorable stays.