Waterbom Bali is a thrilling water park that offers an unforgettable experience for visitors of all ages. Located in the heart of Kuta, this world-class water park is a must-visit destination for anyone seeking fun and excitement in Bali.
Introduction to Waterbom Bali
Waterbom Bali is not just your average water park. It is a paradise of exhilarating rides, relaxing attractions, and mouthwatering dining options. With its beautifully landscaped gardens and cutting-edge facilities, Waterbom Bali provides an immersive and enjoyable experience for everyone.
Whether you are a thrill-seeker looking for an adrenaline rush or a leisurely traveler seeking relaxation, Waterbom Bali has something to offer you.
Where is Waterbom Bali Located?
Situated in the heart of Kuta, Waterbom Bali is conveniently located near popular tourist areas and accommodations. The water park is easily accessible and is just a short drive away from Ngurah Rai International Airport.
Its central location makes it an ideal choice for both locals and tourists looking for a day of excitement and entertainment.
Why Waterbom Bali is a Must-Visit
Waterbom Bali boasts numerous reasons why it is a must-visit destination for thrill-seekers and leisure travelers alike. Here are just a few:
Wide Range of Thrilling Rides: Waterbom Bali is home to an impressive selection of adrenaline-pumping rides that will leave you breathless and craving for more.
Relaxing Attractions: It's not all about the high-speed thrills at Waterbom Bali. The water park also offers a variety of attractions where you can relax and unwind.
Mouthwatering Dining Options: From refreshing tropical drinks to delicious meals, Waterbom Bali has a wide range of dining options to satisfy your appetite.
Pristine and Safe Environment: Waterbom Bali places great emphasis on maintaining a clean and safe environment for its visitors, ensuring a worry-free experience for everyone.
The Thrilling Rides of Waterbom Bali
Prepare to be exhilarated as you experience the thrilling rides that Waterbom Bali has to offer. From high-speed water slides to gravity-defying loops, these rides are sure to get your heart racing.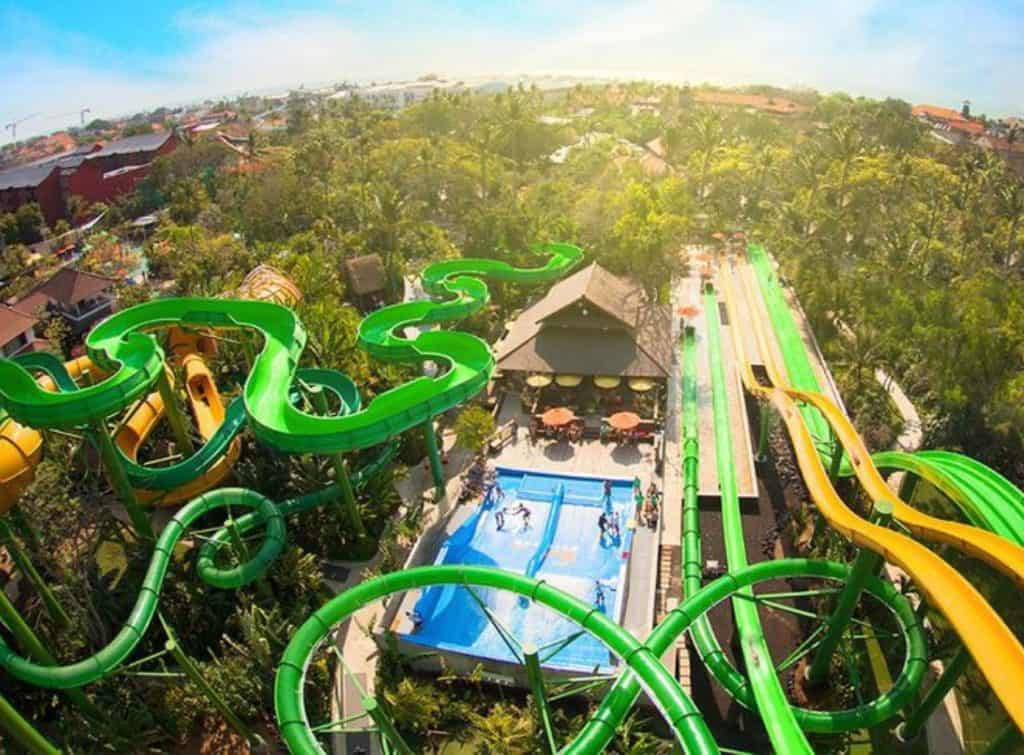 The Constrictor: A High-Speed Experience
The Constrictor is one of the most thrilling slides at Waterbom Bali. It is a high-speed water slide that takes you on a twisting and turning adventure. As you descend through its tight, serpentine-like coils, you'll experience a rush of adrenaline like no other.
This ride is not for the faint of heart, but for those seeking an exhilarating challenge, The Constrictor is a must-try.
The Boomerang: A Vertical Thrill
If you're looking for a vertical thrill, The Boomerang is the ride for you. This unique water slide propels you up and down its steep slopes, giving you a sensation of weightlessness and a rush of pure excitement.
Get ready to scream and let go as you plunge down and soar high into the sky on this adrenaline-pumping ride.
The Python: A Ride for the Whole Family
Waterbom Bali is not just about thrilling rides for the adventurous souls. It also offers family-friendly attractions, such as The Python, that can be enjoyed by visitors of all ages.
The Python is a long, twisting water slide that provides a fun and exciting adventure for the whole family. Race down its curves and turns as you enjoy the exhilaration and bond with your loved ones.
Relaxing Attractions at Waterbom Bali
When you're ready for a break from the thrilling rides, Waterbom Bali offers a range of relaxing attractions where you can unwind and recharge.
The Lazy River: A Gentle Ride
Take a leisurely float along the Lazy River and let the gentle currents carry you away. This calm and tranquil attraction is perfect for those seeking a peaceful respite from the excitement and heat of the day.
Grab an inflatable tube, lay back, and let the river guide you through lush tropical landscapes as you soak up the serene ambiance of Waterbom Bali.
The Pleasure Pool: A Place to Unwind
If you're looking to simply soak up the sun and relax, head to the Pleasure Pool. This spacious pool area offers a serene beach-like setting with comfortable lounge chairs and umbrellas.
Kick back, enjoy the cool water, and let your worries melt away as you bask in the peaceful atmosphere of the Pleasure Pool.
Dining Options at Waterbom Bali
Waterbom Bali understands that all the fun and excitement can work up an appetite. That's why they offer a variety of dining options to satisfy your cravings.
Tropical Drinks at The Pool Bar
Quench your thirst with a refreshing tropical drink from The Pool Bar. Situated near the main pool, this vibrant bar offers a wide selection of delicious beverages, from fruity mocktails to tropical cocktails.
Enjoy your drink while lounging poolside and take in the lively atmosphere of Waterbom Bali.
Delicious Meals at The Shack
When hunger strikes, head over to The Shack for a satisfying meal. This casual dining spot offers a diverse menu featuring both local and international cuisines.
Indulge in mouthwatering dishes such as juicy burgers, crispy pizzas, or Indonesian specialties. Whatever your appetite desires, The Shack has something to please every palate.
Practical Information for Visitors
Before embarking on your Waterbom Bali adventure, it's important to know some practical information to ensure a smooth and enjoyable visit.
Opening Hours and Ticket Prices
Waterbom Bali is open every day from 9 AM to 6 PM. It is recommended to arrive early to make the most of your day at the water park.
Ticket prices vary depending on age and the type of ticket selected. It is advisable to check the official website or contact Waterbom Bali directly for the most up-to-date ticket prices and promotions.
Safety Measures at Waterbom Bali
Waterbom Bali prioritizes the safety of its guests. Lifeguards are stationed throughout the park to ensure a safe and enjoyable experience for everyone.
It is important to follow all safety instructions and guidelines provided by the water park. This includes following height restrictions, wearing appropriate swimwear, and adhering to the rules of each attraction.
Rest assured, Waterbom Bali takes safety seriously so you can focus on having a thrilling and memorable time.
In summary, Waterbom Bali offers an unparalleled experience for thrill-seekers and leisure travelers alike. With its thrilling rides, relaxing attractions, and delicious dining options, it is no wonder that it is a must-visit destination in Bali. Whether you're looking for high-speed adventure or a place to unwind, Waterbom Bali has it all. So pack your swimsuit, gather your family and friends, and get ready to experience the thrill of Waterbom Bali.