Bali is one of the most popular tourist destinations in the world and for good reason. This Indonesian island is not only home to some of the world's most breathtaking natural wonders, but it also boasts a rich cultural heritage that is evident throughout its many temples, art, and traditions. Whether you're looking to dive into the local culture or bask in the beauty of Bali's nature, there's no shortage of fascinating attractions to explore on this island paradise.
The Rich Culture and History of Bali
Perhaps the most notable aspect of Bali is its expansive and vibrant cultural heritage. With a long and complex history that is deeply intertwined with religion, the island boasts countless temples, monuments, and traditions that have captivated visitors for centuries.
Temples and Sacred Sites in Bali
From the awe-inspiring beauty of the Tanah Lot temple to the striking architecture of the Pura Besakih temple, Bali is home to some of the world's most fascinating and deeply spiritual sacred sites. Many visitors find that the island's temples and shrines offer a profound glimpse into the ancient values and beliefs that continue to animate the Balinese way of life.
Exploring the island's many temples is a wonderful way to gain a deeper understanding of Balinese culture. Alongside admiring the exquisite architecture and ornate carvings, travellers can also often witness spiritual ceremonies such as prayers and offerings to the gods.
Traditional Balinese Dance Performances
Balinese dance is another important aspect of the island's cultural heritage, and these captivating performances are an absolute must-see for anyone visiting Bali.
Throughout Bali, travellers can find traditional dance performances that often tell stories from Balinese mythology or celebrate important cultural events. The intricate costumes, sweeping movements, and haunting music of these performances are truly mesmerizing and offer an unforgettable glimpse into Balinese art and tradition.
Local Art and Handicrafts
Besides the temples and dance performances, Bali is also renowned for its local art and handicrafts.
From intricately carved wooden masks to beautiful hand-woven textiles and vibrant paintings, the island offers a wealth of artistic creations that are the perfect souvenirs for anyone looking to take a piece of Bali home with them. Meeting the local artisans and watching them work can be a fascinating and enriching experience, and many visitors find themselves drawn to the unique beauty and quality of Balinese craftsmanship.
Breathtaking Natural Wonders In Bali
Of course, no visit to Bali would be complete without experiencing the island's stunning natural beauty. With miles of unspoiled beaches, lush jungles and rice paddies, and towering volcanoes, Bali offers a wealth of outdoor adventures for travellers of all ages and interests.
Beaches and Water Sports
Bali boasts some of the world's most beautiful beaches, with crystal-clear waters and pristine white sand stretching out as far as the eye can see. Whether you're looking to sunbathe, surf, snorkel or just take a dip in the ocean, there are plenty of incredible beaches to explore on the island.
For those looking to get in the water, Bali offers a wealth of exciting water sports like surfing, sea walking, and snorkelling. Whether you're a seasoned pro or a first-time beginner, the island's clear waters and gentle waves offer the perfect backdrop for an adrenaline-pumping adventure.
Waterfalls and Jungle Treks
Beyond its beaches, Bali is also home to some truly breathtaking natural wonders, like awe-inspiring waterfalls and lush jungles.
Visitors can explore the stunning Aling-Aling waterfall or hike through the stunning jungles of Ubud. Along the way, they'll enjoy stunning views and a chance to encounter the island's rich and diverse array of wildlife and flora.
Volcanoes and Mountain Hikes
For those looking for a truly epic and unforgettable adventure, a trek to the top of one of Bali's towering volcanoes is an experience like no other.
From the stunning Mount Batur to the majestic Mount Agung, Bali offers a wealth of opportunities for hiking and exploring the island's volcanic landscapes. With stunning views and a chance to encounter Balinese villages and culture along the way, a mountain hike is an experience that every visitor to Bali should consider.
Wildlife and Conservation
For those looking to encounter Bali's rich and diverse array of wildlife, there are plenty of opportunities to do so on the island.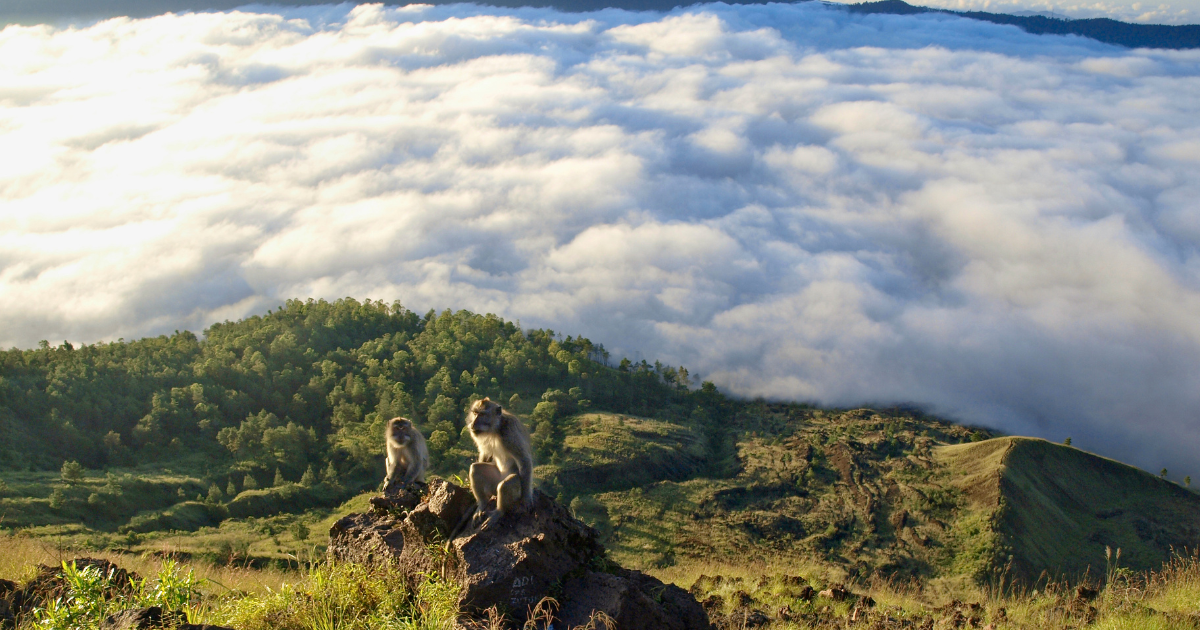 Monkey Forest and Bali Bird Park
The popular Monkey Forest offers a chance to encounter Bali's playful macaques up close and personal, while the Bali Bird Park presents a chance to see some of the world's most beautiful and exotic birds in their natural habitats.
Turtle Conservation and Education Center
Bali is also home to a number of conservation and education centres, such as the Bali Sea Turtle Society, that offer visitors a chance to learn about Bali's unique ecosystems and the efforts being made to protect them.
Bali Safari and Marine Park
For those looking for a more immersive wildlife experience, the Bali Safari and Marine Park offer a chance to get up close and personal with some of Bali's most exotic and fascinating creatures, from lions and tigers to dolphins and sea lions.
Relaxation and Wellness Experiences
For visitors looking to unwind and recharge, Bali offers a wealth of relaxation and wellness experiences that are sure to leave you feeling rejuvenated and refreshed.
Yoga and Meditation Retreats
Bali has long been a popular destination for wellness enthusiasts, and it's easy to see why.
With its tranquil natural beauty and rich spiritual culture, the island is the perfect place to unwind and cultivate a sense of inner peace through yoga, meditation, or other wellness practices.
Traditional Balinese Spas
Bali is also renowned for its traditional spas, which offer a range of soothing treatments and relaxation experiences that draw on ancient Balinese healing traditions.
From a rejuvenating massage to a luxurious facial, Bali's spas are the perfect place to indulge in a little self-care and pampering during your stay on the island.
Healthy and Organic Dining Options
Finally, for those looking to nourish their bodies and minds during their stay in Bali, the island offers a wealth of healthy and organic dining options.
From farm-to-table restaurants to local markets and street food stalls, Bali's food scene is renowned for its use of fresh, organic ingredients and its emphasis on healthy, delicious eating.
Summing It Up
From its rich cultural heritage and stunning natural beauty to its diverse array of wildlife and wellness experiences, Bali is a truly remarkable destination that has something to offer every type of traveller.
Whether you're an adventure seeker, a culture enthusiast, or simply looking to relax and recharge, a trip to Bali promises to be an unforgettable experience that will leave you with memories to last a lifetime.