Located in the heart of Bali, Ubud is a cultural hub that attracts millions of tourists every year. With its rich history, fascination with art, and captivating natural scenery, there's a lot to explore in this tranquil town.
The Rich Culture and History of Ubud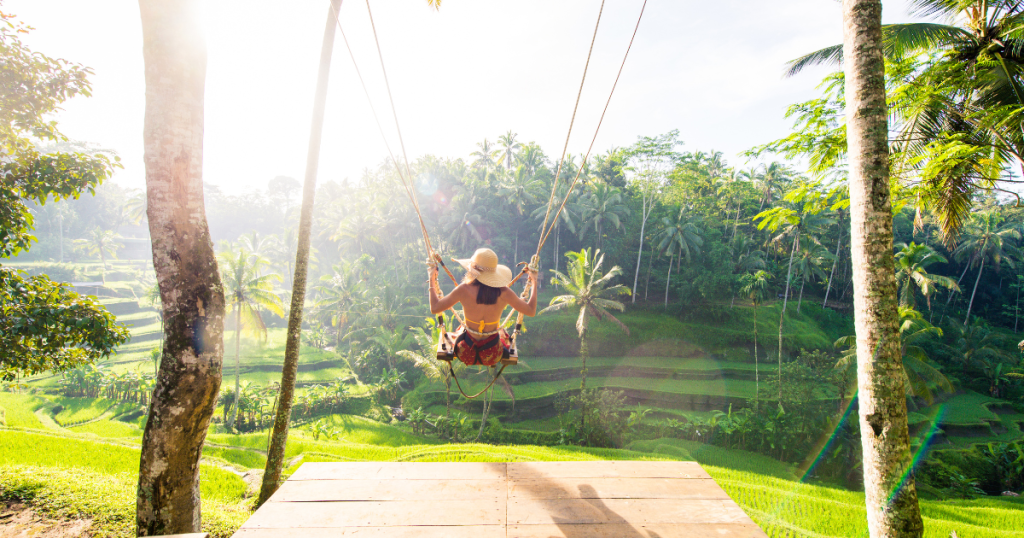 Ubud has a fascinating history, dating back to the 8th century when Hindu Javanese priests first established the town. Throughout the years, Ubud has welcomed many Dutch and Chinese merchants, as well as various cultural scholars who were drawn to the town's enchanting charm.
Ubud is known for its artistic and cultural heritage, which is evident in the town's architecture, art, and way of life. The town is surrounded by lush green rice paddies, and traditional Balinese houses line the streets. The locals are proud of their heritage and are happy to share their traditions with visitors.
The Royal Palace of Ubud
A must-visit attraction in Ubud, the Royal Palace will transport you back in time to the days of Balinese royalty. Also known as Puri Saren Agung, this stunning palace was built in the 1800s and still houses the royal family. Visitors are invited to marvel at the ornate architecture, lush gardens, and intricate woodcarvings which depict epic stories from Hindu mythology.
The palace is a popular spot for cultural performances, including traditional Balinese dance and music. Visitors can watch these performances in the palace courtyard, which is adorned with colourful Balinese decorations. The palace also hosts various ceremonies and festivals throughout the year, which offer a glimpse into Balinese culture and traditions.
Puri Lukisan Museum
If you're interested in Balinese art, the Puri Lukisan Museum is worth a visit. This museum houses a vast collection of traditional and contemporary Balinese paintings, sculptures, and carvings. The exhibitions are divided according to Bali's three major art styles: Kamasan, Sanur, and Ubud.
The museum is located in the heart of Ubud and is surrounded by beautiful gardens. The exhibits showcase the evolution of Balinese art, from its traditional roots to its modern interpretations. The museum also hosts workshops and classes, where visitors can learn about Balinese art and even try their hand at creating their own pieces.
Blanco Renaissance Museum
Further proof of Ubud's art fanaticism, the Blanco Renaissance Museum is a tribute to the life and works of Spanish artist Antonio Blanco. The museum showcases his pieces, which reflect his fascination with Bali's spiritual world, its people, and its customs. The museum's gardens offer sweeping views of the surrounding verdant landscape.
The museum is a unique blend of Balinese and European art, as Blanco's works were heavily influenced by both cultures. The museum also features a restaurant, where visitors can enjoy delicious Balinese cuisine while taking in the stunning views of the rice paddies and surrounding mountains.
Ubud is a town rich in culture and history, and there is no shortage of things to see and do. Whether you're interested in art, history, or simply soaking up the town's atmosphere, Ubud is a must-visit destination in Bali.
The Natural Beauty of Ubud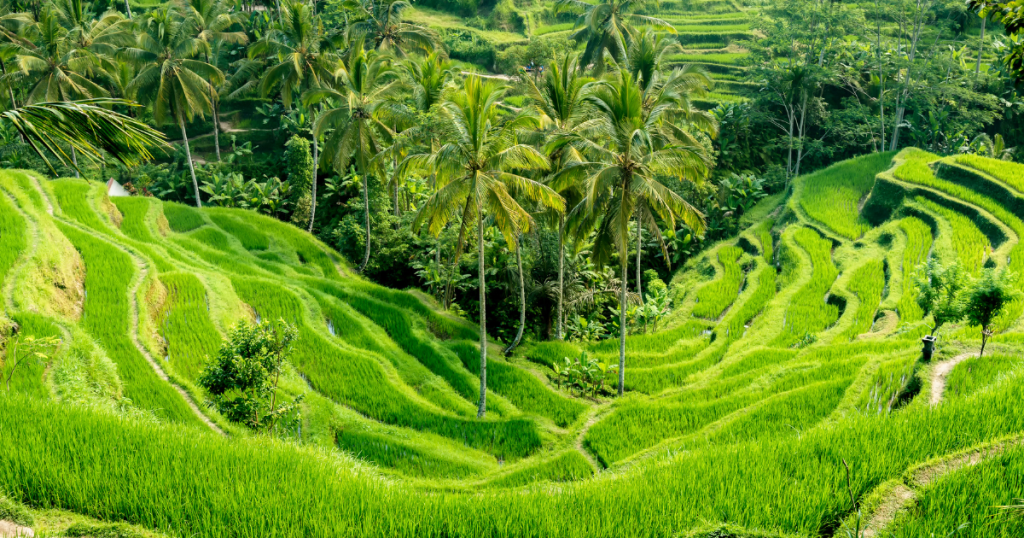 When it comes to natural wonders, Ubud has plenty to offer. The town is surrounded by lush forests, rice paddies, and rivers, providing a refreshing escape from the hustle and bustle of the city.
Tegalalang Rice Terraces at Ubud
The Tegalalang Rice Terraces are Ubud's most famous natural attraction, attracting many tourists who want to snap a photo of the picturesque scenery or take a stroll through the paddies. Golden rice stalks blanket the hills in a layered, terraced fashion, creating an impressive geometrical masterpiece.
Campuhan Ridge Walk
Take a break from the crowds and enjoy a peaceful stroll along the Campuhan Ridge Walk. The trail is lined with lush foliage and provides breathtaking views of the surrounding landscapes. Early morning or late afternoon walks are recommended to avoid the mid-day heat.
Tegenungan Waterfall
The Tegenungan Waterfall is a refreshing oasis in the midst of Bali's tropical forests. The waterfall flows into a natural pool that is perfect for swimming or lounging. The water is cold and invigorating, making it a great spot to cool off during a hot day.
Spiritual Experiences in Ubud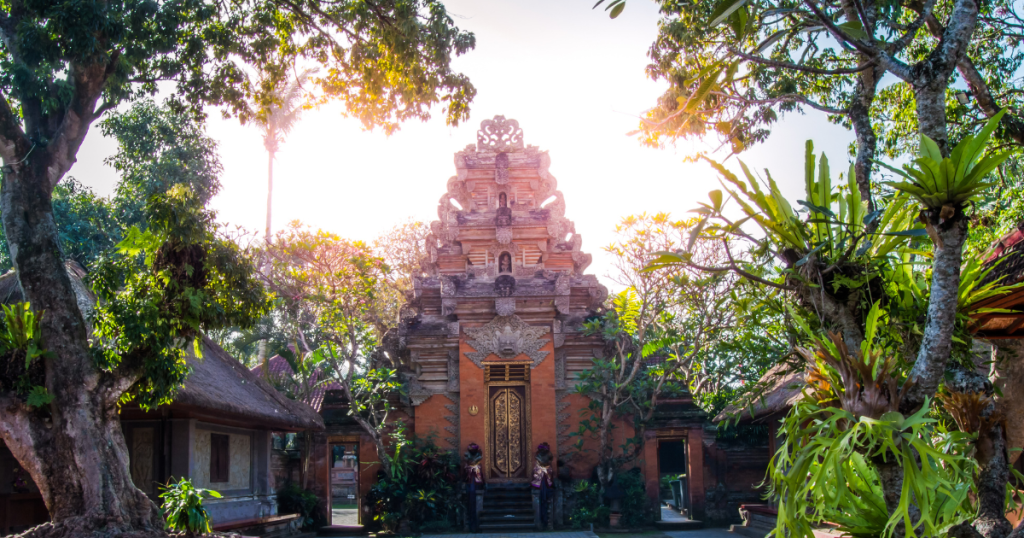 Ubud is also a spiritual haven, famed for its numerous temples, shrines, and ceremonies. For those seeking a deeper connection with Bali's spiritual culture, these are must-visit attractions.
Tirta Empul Temple
The Tirta Empul Temple is one of Bali's holiest sites. It is believed to be the place where the Hindu god Indra created a natural spring to heal his troops after they were poisoned by a demon. Today, the temple's natural spring is still considered to have healing properties, and many visitors come to bathe in its holy waters and participate in the purification ritual.
Saraswati Temple
The Saraswati Temple is a stunning tribute to the beautiful Hindu goddess of education, music, and aesthetics. The temple's Balinese architecture is adorned with intricate carvings of lotus flowers and traditional motifs. The temple also houses a beautiful lotus pond with water lilies and vibrant koi fish.
Gunung Kawi Temple
The Gunung Kawi Temple is home to a collection of exquisite rock-cut shrines dating back to the 11th century. Visitors must first descend a long staircase flanked by rice paddies and lush foliage. The shrines are believed to be dedicated to Bali's ancient kings and queens, and their intricate carvings are an impressive feat of engineering.
Ubud's Vibrant Art Scene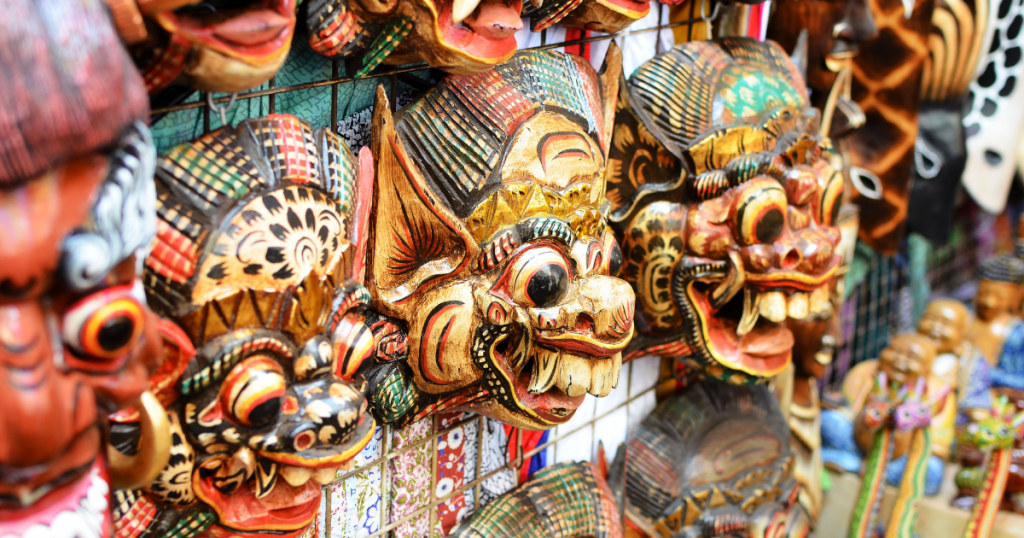 Ubud's art scene is one of the most vibrant and thriving in the world. Its galleries and markets are home to a wide range of traditional and contemporary works from artists both local and international.
Ubud Art Market
The Ubud Art Market is a bustling marketplace where visitors can find a wide variety of traditional Balinese handicrafts, souvenirs, and textiles. Haggling is expected, so be prepared to negotiate a price for your desired items.
Neka Art Museum
The Neka Art Museum is a must-visit for any art lover. It houses a vast collection of traditional and contemporary Balinese art, including paintings, sculptures, and carvings. Pieces are displayed chronologically, allowing visitors to see the evolution of Balinese art over the centuries.
Agung Rai Museum of Art
The Agung Rai Museum of Art is a contemporary art museum that showcases pieces from various Indonesian and international artists. The museum also houses a traditional Balinese house, art classes, and workshops for aspiring artists.
Summing It Up
Ubud is an incredible destination for those seeking a combination of cultural experiences, natural scenery, and artistic immersion. Whether you're interested in history, art, or spirituality, Ubud has something to offer every kind of traveller. Plan your visit today and discover what makes this town such a unique gem in Bali's crown.