Bintan Island, located in the Riau Archipelago of Indonesia, is a stunning destination that offers a unique appeal to travelers. With its pristine beaches, lush greenery, and diverse cultural heritage, Bintan has become a top vacation hotspot. Whether you are seeking relaxation, adventure, or both, this enchanting island has something for everyone.
Understanding Bintan's Unique Appeal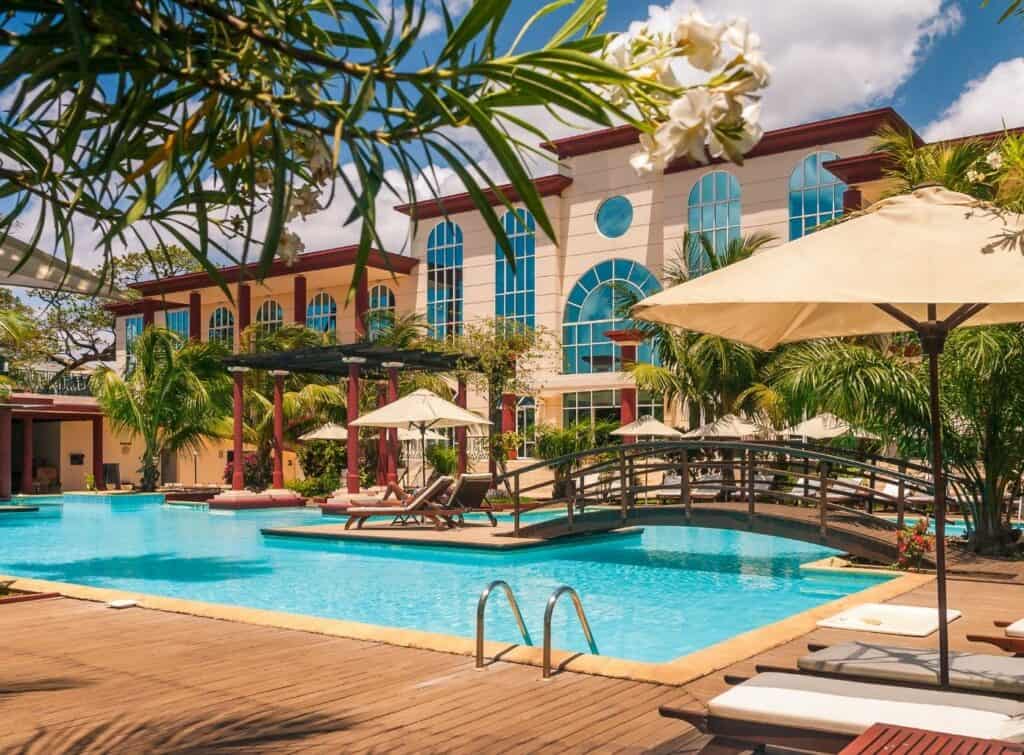 One of the reasons that Bintan has gained popularity among travelers is its natural beauty. The island boasts breathtaking scenery, including crystal-clear waters, white sandy beaches, and swaying palm trees. Whether you want to soak up the sun or explore the underwater world through snorkeling or diving, Bintan offers abundant opportunities for outdoor adventure.
In addition to its natural beauty, Bintan is also known for its rich cultural heritage. The island is home to several indigenous communities, each with its own traditions and customs. Visitors to Bintan can immerse themselves in the local culture by visiting traditional villages, witnessing traditional dances, and sampling local delicacies.
Bintan is not just a destination for relaxation and exploration, but also a place where you can indulge in thrilling activities. The island offers a wide range of water sports, such as jet skiing, parasailing, and kayaking. Adrenaline junkies can get their fix by trying out these exhilarating activities, while enjoying the stunning coastal views.
For those seeking a more tranquil experience, Bintan provides ample opportunities for yoga and meditation retreats. The serene environment and peaceful atmosphere make it an ideal destination for those looking to rejuvenate their mind, body, and soul. Imagine practicing yoga on the beach, with the sound of gentle waves and the warm breeze caressing your skin.
The Charm of Bintan Island
One of the reasons why Bintan has become a favorite destination for many is its laid-back and charming atmosphere. The island offers a peaceful and relaxing environment, away from the hustle and bustle of city life. Whether you are strolling along the beach, enjoying a spa treatment, or simply gazing at the sunset, Bintan offers a serene escape that will leave you feeling rejuvenated.
As you explore the island, you'll come across hidden gems that add to its charm. From quaint fishing villages to picturesque hiking trails, Bintan offers a glimpse into the local way of life. You can interact with friendly locals, learn about their traditions, and even try your hand at traditional crafts.
Bintan is also known for its vibrant nightlife scene. The island comes alive after dark, with beachfront bars and clubs offering live music, delicious cocktails, and a lively atmosphere. Dance the night away under the starry sky, surrounded by the sounds of laughter and the rhythm of the music.
Why Bintan is a Top Vacation Destination
In addition to its natural beauty and charming atmosphere, Bintan has gradually developed into a top vacation destination due to its world-class hotels and resorts. With a wide range of accommodation options available, visitors can choose from luxury hotels, mid-range resorts, and budget-friendly options.
These accommodations not only provide comfortable and stylish rooms but also offer a range of amenities and facilities to enhance your stay. From infinity pools overlooking the ocean to spa centers offering rejuvenating treatments, Bintan's hotels and resorts ensure that every aspect of your vacation is taken care of.
Furthermore, Bintan is a paradise for food lovers. The island's culinary scene is diverse and vibrant, with a mix of local delicacies and international cuisines. From fresh seafood grilled to perfection to aromatic Indonesian spices, Bintan's restaurants and street food stalls offer a gastronomic adventure that will tantalize your taste buds.
Whether you are seeking adventure, relaxation, cultural immersion, or simply a memorable vacation, Bintan has it all. With its natural beauty, charming atmosphere, and world-class amenities, it's no wonder that Bintan has become a top choice for travelers from around the world.
The Criteria for Choosing the Best Hotels
Location and Accessibility
When choosing the best hotels in Bintan, location and accessibility are important factors to consider. Ideally, you would want to stay in a hotel that provides easy access to popular attractions, restaurants, and shopping areas. Bintan's top hotels are strategically located to ensure that guests can easily explore the island's offerings.
Amenities and Services
Another crucial criterion for selecting the best hotel is the availability of amenities and services. Bintan's top hotels are known for their world-class facilities, including swimming pools, fitness centers, restaurants, and spa services. Additionally, these hotels offer exceptional customer service to ensure that guests have a comfortable and memorable stay.
Price and Value for Money
Price is often a determining factor when choosing accommodations. Bintan offers a range of hotels to suit various budgets, ensuring that visitors can find a hotel that provides excellent value for money. Whether you are looking for a luxurious stay or a budget-friendly option, Bintan has something to offer.
Top Luxury Hotels in Bintan
The Sanchaya Bintan
The Sanchaya Bintan is a luxurious beachfront retreat that offers unparalleled sophistication and elegance. This exclusive property features beautifully appointed villas, a private beach, and world-class amenities. Guests can indulge in fine dining experiences, rejuvenate their senses at the spa, or simply relax by the infinity pool while enjoying panoramic views of the ocean.
Banyan Tree Bintan
Another renowned luxury hotel in Bintan is the Banyan Tree Bintan. Nestled amidst lush greenery, this resort offers a tranquil and secluded getaway. Guests can immerse themselves in nature while staying in beautifully designed villas that offer privacy and comfort. With its award-winning spa and array of dining options, the Banyan Tree Bintan promises an unforgettable experience for its guests.
Best Mid-Range Hotels in Bintan
Nirwana Resort Hotel
Nirwana Resort Hotel is a popular choice for travelers seeking a mid-range accommodation option in Bintan. Located on the stunning east coast of the island, this resort offers comfortable rooms, a wide range of recreational activities, and access to a private beach. Guests can enjoy golfing, water sports, and cultural performances during their stay at Nirwana Resort Hotel.
Bintan Agro Beach Resort
For those looking for a unique and eco-friendly experience, Bintan Agro Beach Resort is an excellent choice. This resort is surrounded by lush greenery and offers traditional Indonesian-style bungalows. Guests can enjoy nature walks, village tours and even participate in traditional farming activities. With its rustic charm and warm hospitality, Bintan Agro Beach Resort provides a memorable stay for its guests.
Budget-Friendly Options in Bintan
Bintan Spavilla Beach Resort
Bintan Spavilla Beach Resort is a budget-friendly option for travelers who want to enjoy the beauty of Bintan without breaking the bank. Located close to the beach, this resort offers comfortable rooms, a swimming pool, and a restaurant. Guests can relax on the beach, take part in water sports, or simply unwind by the pool while admiring the picturesque surroundings.
Lagoi Bay Villas
Lagoi Bay Villas is another affordable option for those on a budget. Situated in a peaceful and serene environment, this resort offers spacious villas with modern amenities. Guests can explore nearby attractions, such as the Lagoi Bay Beach and Treasure Bay, or simply enjoy the tranquility of the resort's surroundings. With its affordable rates and comfortable accommodations, Lagoi Bay Villas is a great choice for budget travelers.
Overall, Bintan is a destination that truly offers the best of both worlds. With its stunning natural beauty, rich cultural heritage, and world-class hotels, it is no wonder that Bintan has become a coveted vacation spot. Whether you are seeking luxury, affordability, or something in between, Bintan has a range of hotels that will suit your preferences. Book your stay today and embark on an unforgettable vacation in this idyllic island paradise.