Indonesia, with its pristine beaches, lush landscapes, and vibrant culture, is a dream destination for travelers seeking an unforgettable vacation. Nestled within this tropical paradise are the prestigious Aman Hotels, renowned for their unparalleled luxury and exceptional hospitality. Embark on a journey with us as we explore the unique experiences offered by these enchanting retreats.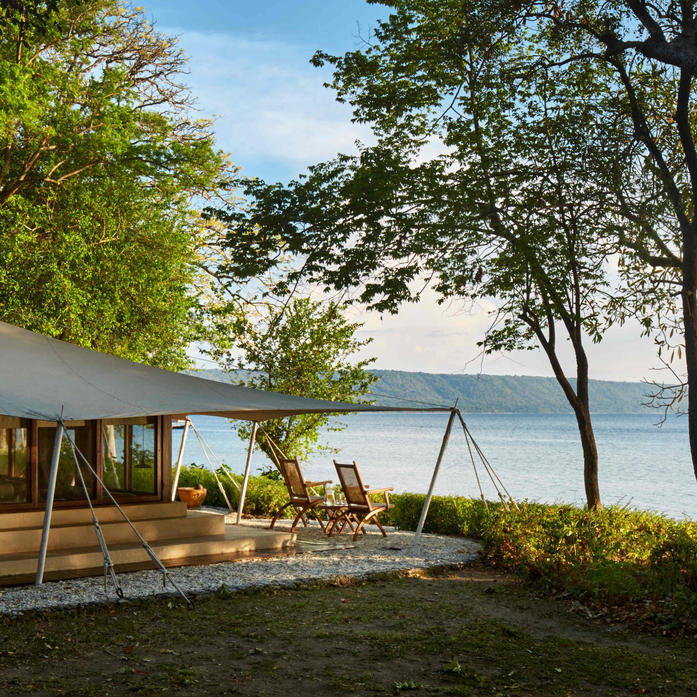 Exploring the Aman Hotel Experience
When it comes to luxury hotels, Aman sets the bar high with its unparalleled dedication to providing guests with an immersive and transformative experience. The moment you step into an Aman property, you are transported to a haven of tranquility and opulence. Each hotel is designed to celebrate the local culture and heritage while offering contemporary comforts that cater to the most discerning guests.
The Unique Aman Hotel Philosophy
What sets the Aman Hotels apart is their unwavering commitment to creating a harmonious blend of exclusivity, privacy, and personalized service. Drawing inspiration from the Sanskrit word for "peace," Aman Hotels embody a philosophy that encourages guests to reconnect with themselves, nature, and the local community. Every aspect of the hotel, from its architecture to its cultural offerings, strives to create a serene and soul-stirring experience.
Signature Amenities and Services
From the moment you arrive, you are treated to a range of exclusive amenities and services that redefine luxury. Immerse yourself in the world of wellness at the Aman Spa, where ancient healing practices and modern techniques combine to rejuvenate your body and mind. Indulge your palate with delectable cuisine inspired by local flavors and crafted with the finest ingredients. Aman Hotels also offer a variety of recreational activities, ensuring there is something for everyone, whether it be exploring pristine beaches, diving into crystal-clear waters, or embarking on a cultural excursion.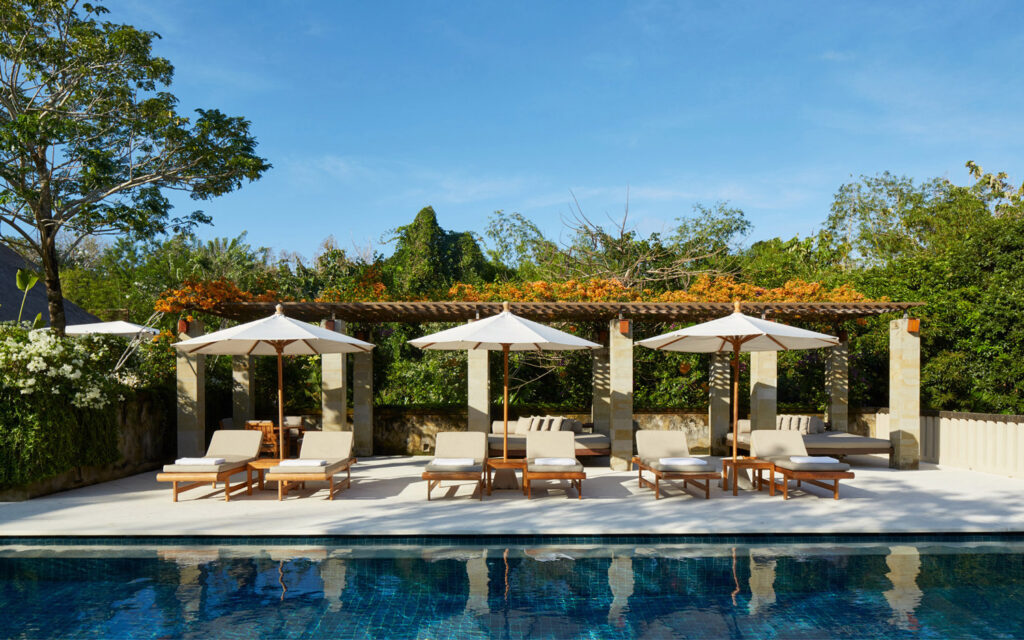 Aman Villas at Nusa Dua
Located in the vibrant island of Bali, Aman Villas at Nusa Dua promises an unforgettable stay amidst unparalleled beauty. These exclusive villas boast spacious accommodations with private pools, stunning ocean views, and lush gardens that offer a sense of tranquility and seclusion.
Accommodation and Facilities
The villas at Nusa Dua are meticulously designed to create a luxurious sanctuary that blends seamlessly with the surrounding landscape. Each villa features elegant interiors with a contemporary Balinese aesthetic, complemented by state-of-the-art amenities. The private pools provide the perfect setting for relaxation, while the spacious living areas and outdoor terraces offer ample space for entertaining or enjoying quiet moments.
Dining and Cuisine
At Aman Villas Nusa Dua, culinary excellence is celebrated with a variety of dining options that cater to every palate. Indulge in authentic Indonesian cuisine made with locally sourced ingredients at the resort's signature restaurant. For a more intimate experience, opt for a private dining experience tailored to your preferences. Whichever option you choose, you can expect a feast for the senses in a breathtaking setting.
Amanjiwo in Central Java
Perched on a hillside overlooking the magnificent Borobudur temple, Amanjiwo is a sanctuary that offers a unique blend of tranquility and cultural immersion. This architectural masterpiece showcases Javanese design elements and provides an unparalleled vantage point to explore the awe-inspiring heritage of Central Java.
Architectural Highlights
The architecture of Amanjiwo is a testament to the rich cultural heritage of Central Java. Modeled after a traditional Javanese village, the resort's design features intricately carved limestone walls, stunning pavilions, and reflective lotus ponds. The spacious suites offer panoramic views of the surrounding landscapes, allowing you to immerse yourself in the captivating beauty of your surroundings.
Local Attractions and Activities
While staying at Amanjiwo, you have the opportunity to explore the wonders of Central Java. Embark on a sunrise visit to the Borobudur temple, a UNESCO World Heritage Site, and be enchanted by its majestic beauty. Discover the ancient traditions and crafts of the local villages, or indulge in a soul-soothing spa treatment inspired by Javanese healing practices. Amanjiwo offers a plethora of activities that allow you to experience the vibrant culture and natural splendor of the region.
Amankila in East Bali
Located on a cliffside overlooking the Lombok Strait, Amankila is a sanctuary that offers breathtaking views and unparalleled tranquility. The resort's architecture reflects traditional Balinese design, seamlessly blending with the surrounding nature to create a sense of harmony and serenity.
Breathtaking Views and Surroundings
From the moment you arrive at Amankila, you are greeted with panoramic views of the turquoise waters of the Lombok Strait. The resort's infinity pool seems to merge with the ocean, creating a serene environment that invites relaxation and contemplation. Immerse yourself in the natural beauty of East Bali as you wander through lush gardens, walk along pristine beaches, or embark on a memorable boat trip.
Wellness and Spa Services
At Amankila, wellness is paramount. Indulge in rejuvenating spa treatments, inspired by ancient Balinese healing traditions, and designed to restore balance and vitality. The spa's tranquil setting, nestled amidst coconut trees and overlooking the ocean, creates an idyllic ambiance that enhances the therapeutic experience. From traditional massages to holistic wellness programs, Amankila offers a range of options to cater to your specific needs.
Amanwana on Moyo Island
For those seeking an adventurous escape, Amanwana on Moyo Island is the epitome of rustic luxury. This eco-conscious retreat immerses you in the untouched wilderness of one of Indonesia's most biodiverse regions, offering a unique blend of adventure and relaxation.
Eco-friendly Initiatives
Amanwana is dedicated to preserving the natural beauty of its surroundings. The resort's eco-friendly initiatives include sustainable practices that minimize its environmental impact, such as solar power and water conservation. Immerse yourself in the pristine landscapes of Moyo Island, home to a diverse range of flora and fauna, and contribute to the conservation efforts by participating in educational programs or taking part in guided nature walks.
Adventure and Wildlife Experiences
At Amanwana, adventure awaits at every corner. Explore the vibrant coral reefs surrounding the island with a snorkeling or diving expedition, where you can marvel at the colorful underwater world teeming with life. Embark on a trek through the lush jungle, accompanied by experienced guides who will introduce you to the island's unique flora and fauna. Amanwana offers a myriad of activities and experiences that allow you to connect with nature and create lifelong memories.
In conclusion, the Aman Hotels in Indonesia offer a slice of paradise for luxury travelers seeking an extraordinary escape. Their commitment to creating a harmonious blend of exclusivity, personalized service, and cultural immersion sets them apart from the rest. Whether you choose to explore the Aman Villas at Nusa Dua, immerse yourself in the cultural heritage of Amanjiwo in Central Java, indulge in the serenity of Amankila in East Bali, or embark on an adventure at Amanwana on Moyo Island, you are guaranteed memories that will last a lifetime. Discover the luxurious Aman Hotels in Indonesia, where unparalleled beauty and unparalleled hospitality meet to create a truly transformative experience.