If you're seeking the epitome of luxury, look no further than Bali, Indonesia. This breathtaking tropical paradise offers an array of upscale accommodations that promise an unforgettable experience. From the picturesque region of Seminyak to the cultural haven of Ubud, and the coastal allure of Nusa Dua and Jimbaran, there is a luxury hotel to suit every traveler's taste. In this article, we explore the finest luxury hotels in Bali and the unique experiences they offer.
Understanding Luxury Accommodation in Bali
When it comes to luxury accommodation in Bali, there is a level of grandeur and elegance that is unmatched. Bali, known as the "Island of the Gods," sets the stage for luxury like no other destination. With its breathtaking landscapes, rich cultural heritage, and warm hospitality, Bali offers a truly extraordinary experience for those seeking the ultimate in indulgence.
Defining Luxury in the Context of Bali
In Bali, luxury goes beyond opulent amenities and exquisite decor. It encompasses a seamless blend of nature, culture, and warm hospitality. The best luxury hotels in Bali embrace these elements, creating a serene and indulgent sanctuary for their guests. From the moment you step foot into these luxurious accommodations, you are transported into a world of tranquility and refinement.
Imagine waking up to the sound of gentle waves crashing against the shore, surrounded by lush tropical gardens. The scent of frangipani flowers fills the air as you step onto your private balcony, offering panoramic views of the azure Indian Ocean. This is the essence of luxury in Bali.
Every detail is carefully curated to provide an unforgettable experience. From the intricately designed furnishings that reflect the island's rich artistic traditions to the personalized service that anticipates your every need, luxury in Bali is a symphony of elegance and comfort.
The Importance of Location and Amenities
When it comes to luxury accommodation in Bali, location is key. Each location offers a unique experience, allowing you to tailor your stay to your preferences. Whether you prefer to be surrounded by lush greenery in the heart of Ubud, overlooking the Indian Ocean in Nusa Dua, or nestled amidst the vibrant streets of Seminyak, there is a luxury hotel that caters to your desires.
Imagine immersing yourself in the tranquility of Ubud, where the sounds of nature and the scent of incense fill the air. Surrounded by rice terraces and ancient temples, you can find solace in the embrace of nature while indulging in the finest amenities and services.
If you seek the allure of the ocean, Nusa Dua offers pristine white sandy beaches and crystal-clear waters. Here, luxury hotels offer private beach access, allowing you to bask in the sun and enjoy the gentle ocean breeze. Dive into the infinity pool that seems to merge seamlessly with the horizon, creating a sense of infinite bliss.
For those who crave the vibrant energy of the city, Seminyak is the place to be. This trendy neighborhood is known for its stylish boutiques, world-class restaurants, and vibrant nightlife. Luxury hotels in Seminyak offer a perfect blend of urban sophistication and tropical charm, allowing you to immerse yourself in the vibrant culture of Bali while enjoying the utmost comfort and luxury.
Aside from the location, world-class amenities are essential elements that set luxury hotels apart. Picture yourself indulging in a rejuvenating spa treatment, where skilled therapists use traditional Balinese techniques to soothe your body and mind. Afterward, take a dip in the infinity pool, surrounded by lush gardens and breathtaking views. As the sun sets, savor a delectable meal at one of the hotel's exceptional dining options, where skilled chefs create culinary masterpieces using the finest local ingredients.
Whether you choose to explore the island's natural wonders, immerse yourself in its vibrant culture, or simply relax and unwind in the lap of luxury, Bali offers a myriad of experiences that cater to every discerning traveler. Luxury accommodation in Bali is not just about lavish surroundings; it is about creating unforgettable memories and experiencing the true essence of paradise.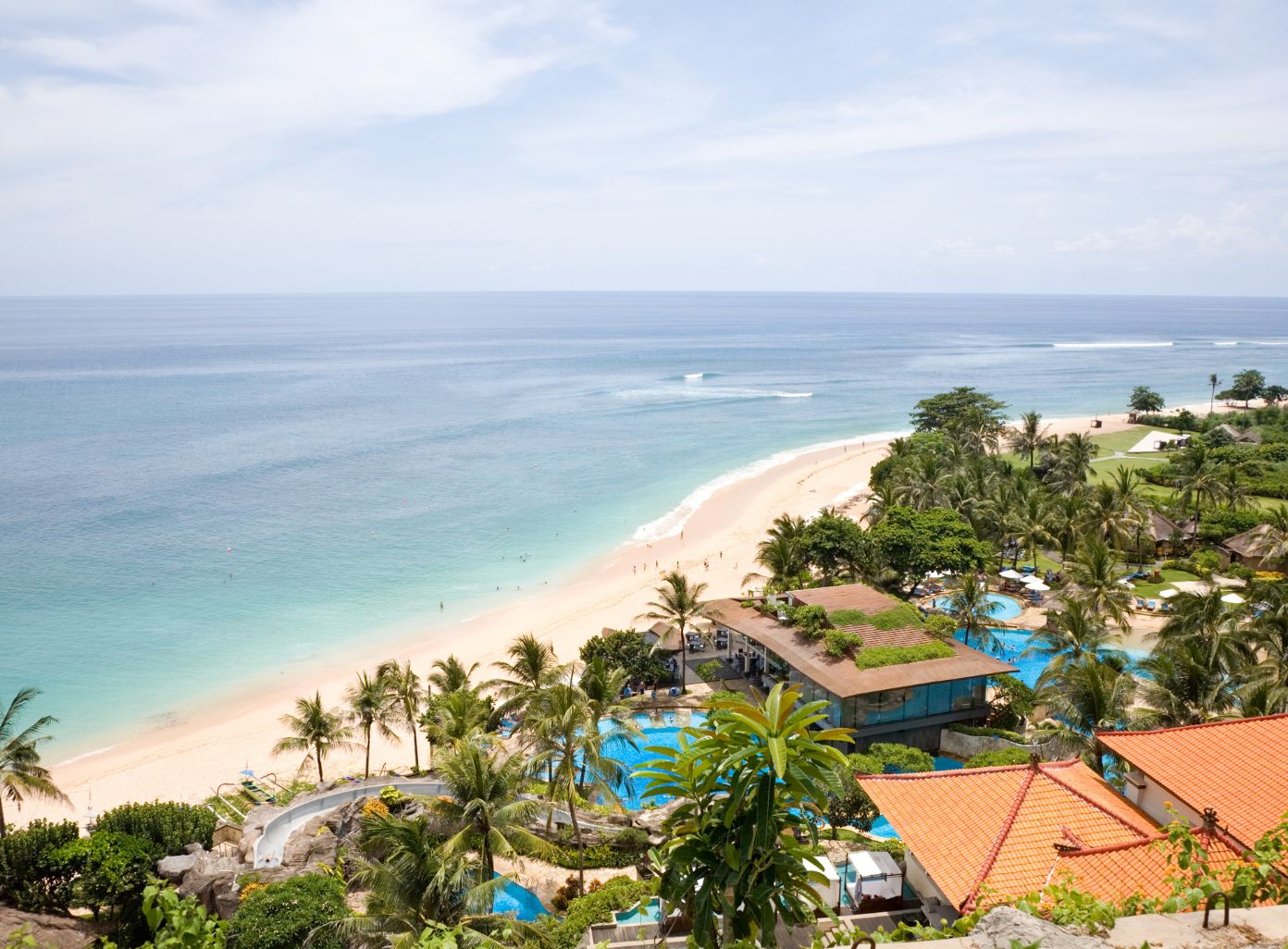 The Top Luxury Hotels in Seminyak
Beachfront Luxury: Hotels with a View
For those seeking the perfect combination of sun, sand, and luxury, Seminyak's beachfront hotels are a dream come true. Imagine waking up to the sound of crashing waves and stepping onto your private balcony with panoramic ocean views. These hotels offer direct access to pristine white-sand beaches, allowing guests to unwind in style and soak up the sun's rays.
Urban Elegance: Hotels in the Heart of Seminyak
If you prefer a blend of city living and luxury, Seminyak's urban hotels provide the ultimate getaway. Located in the heart of this vibrant town, these hotels offer easy access to trendy boutiques, gourmet restaurants, and bustling nightlife. After a day of exploring, retreat to your elegant room or suite, where tranquil ambiance and impeccable service await.
Luxury Accommodations in Ubud
Embracing Nature: Luxury Amidst the Jungle
Ubud, nestled amidst lush rainforests and terraced rice fields, offers luxury accommodations that seamlessly blend nature and comfort. Imagine staying in a magnificent villa surrounded by tropical foliage, with your own private plunge pool and stunning views of the verdant landscape. These hotels provide a peaceful haven away from the bustling tourist areas, allowing you to reconnect with nature and recharge your soul.
Cultural Immersion: Hotels Near Ubud's Attractions
If you're captivated by Bali's rich cultural heritage, choose a luxury hotel near Ubud's famous attractions. You can explore ancient temples, attend traditional dance performances, and visit local art galleries, all within easy reach from your lavish accommodation. These hotels combine cultural immersion with luxurious amenities, making your stay in Ubud an unforgettable experience.
Nusa Dua's Premium Hotel Selection
Resorts and Spas: Ultimate Relaxation
Nusa Dua is renowned for its idyllic beaches and upscale resorts, offering the perfect setting for a luxurious retreat. Pamper yourself at a world-class spa, indulge in exquisite dining, or simply relax by the pool, taking in the breathtaking ocean views. These resorts provide the ultimate relaxation experience, ensuring you return home feeling rejuvenated and refreshed.
Family-Friendly Luxury: Hotels with Something for Everyone
If you're traveling with family, Nusa Dua's luxury hotels cater to both adults and children. From dedicated kids' clubs to spacious family suites, these hotels offer a range of amenities and activities that will keep everyone entertained. Enjoy quality bonding time on the beach, try exciting water sports, or simply savor delicious family meals in a serene and luxurious environment.
The Pinnacle of Luxury in Jimbaran
Seafood and Sunsets: Hotels with Extra Perks
Jimbaran takes luxury to new heights with its stunning coastal views and world-class dining experiences. Indulge your taste buds in freshly caught seafood served on the beach, and watch the sun dip below the horizon as you sip a perfectly crafted cocktail. These hotels go above and beyond to provide extra perks, ensuring your stay in Jimbaran is a truly extraordinary experience.
Romantic Getaways: Luxury Hotels for Couples
For couples seeking a romantic escape, Jimbaran's luxury hotels offer the ideal setting. Enjoy intimate candlelit dinners, private pool villas, and couples' spa treatments that will ignite passion and create cherished memories. Whether you're celebrating a special occasion or simply want to reconnect with your loved one, these hotels provide the ultimate romantic hideaway.
From Seminyak's trendy vibe to Ubud's cultural charm, Nusa Dua's upscale resorts, and Jimbaran's coastal allure, Bali offers an abundance of luxury hotel options that cater to all preferences. So, when you decide to embark on a luxurious journey to Bali, rest assured that you will find the perfect accommodation to exceed your expectations and create memories of a lifetime.